5-27-19 – Addressing Some Updates
---
As always, I want to give a huge thank you and shout out to those who have been with me through my musical journey all these years.  From the musicians to the fans, it has always been an interesting ride!
I just want to give a heads up on a few new things that are going on.
First off, we are going to be changing our flyers.
Here is a peek at our June edition.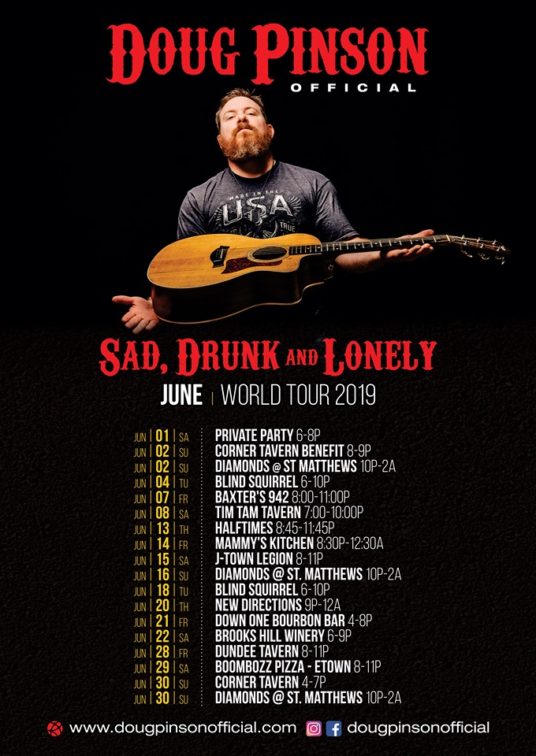 As you can see, the facilities will not be mentioned on these flyers.  This is ONLY our public show schedule.
The main reason for this is not that I mind to advertise the facilities.  The reasons can be broke down into a couple of thoughts, but the biggest is this – posting ONE monthly flyer gives me a central hub to advertise ALL gigs for the month at one time.  This way, I can focus on advertising other aspects of the venues.
If you notice, this list also does not mention any of the guests I am bringing with me to each show, or even if the shows are solo.  I will use Facebook to post who will be performing with me at each show, to keep the information super easy to digest.
Also, if you have not realized – El Nopal is not on this list.
I spoke with the manager and had a heart to heart with him not too long ago.  It bothered me that constantly, I was asked to turn down at this restaurant at the very start of the show, when it wasn't necessarily so at other venues.  It's not that I have to always be loud, but at a venue like El Nopal (where I used to be way louder without complaint from staff), it came to a point where I needed to make a change.
I have been at El Nopal for quite a few years now, playing virtually every Monday night (with exception of being sick, for instance).
At the very least, I am going to take a break from El Nopal.  This will either be permanent, or at the very least, for a period of months.  If I resume there, it will be at the most once a month most likely.  I do a few venues more often than once a month, but most are either once a month or more spread out.
This will give me more time for the family as well – not only do we get some Sundays open, but we will also have some time on Monday nights.  This is always good for a morale boost.
On a note about the family – let's discuss a new addition to our family – Carcassone!
We purchased this game at Louisville Game Shop.  I am always seeking to find new quality forms of entertainment that bring us together, and this game seems to be one that the family enjoys.
It has TONS of expansions to offer a variety of styles to compliment the core board game, but the idea is simple – you compete for the most points.  Not only does this game offer strategy, but its aesthetics would easily rival any other board game on the market.  Here is a sample view of a game in progress.
The game consists of tiles that have various aspects of the medieval city Carcassone.  Tiles may consist of any combination of cities, fields, roads, monastaries and gardens.  Players lay randomly-drawn tiles and match them to tiles where they make sense on the board (city to city, field to field, road to road) and then place Meeples (their pieces) on aspects of these tiles to score points.
For the beginner, a short video explaining the basics of the game should be sufficient to bring them to a comfortable level to play the game with family and friends.
Here is a short video tutorial on the basics of Carcassone.
I can say that our family enjoys this new addition!
Now with all of this said, I'm off to play a bit of Minecraft with the kiddos!

---