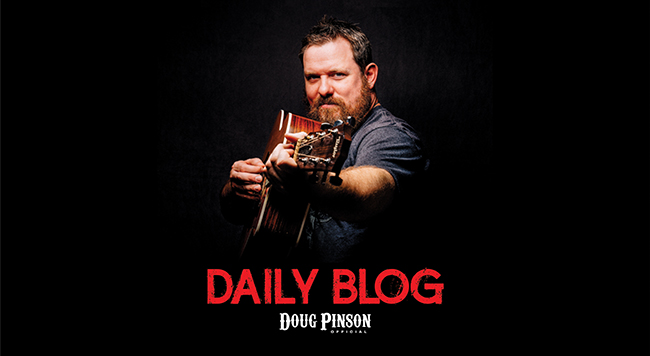 Yesterday was an extremely busy, but quality day!
Three shows in three different towns?  This is how Doug Pinson Official rolls!
Before the travelling began, I worked with my designer to set up the patterns for our new daily blogs and emails.  I hope that you all enjoy what we are building here.  As always, if you have input, I have ears to listen, and may use some of your ideas in future blogs.
The first stop yesterday was at Elmcroft in Mount Washington.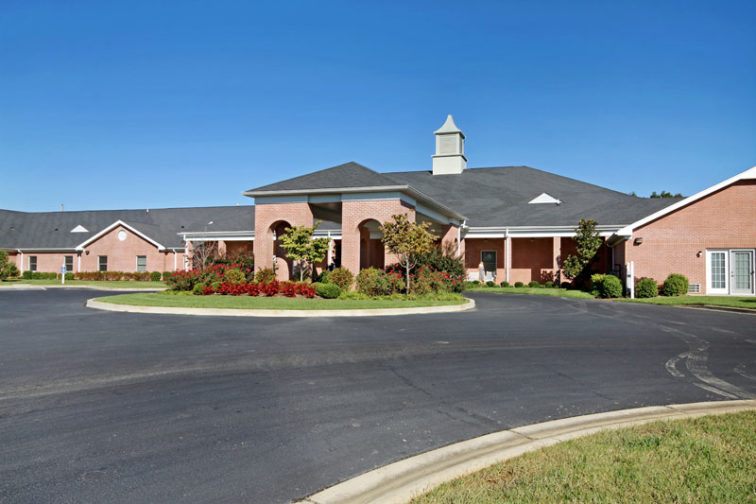 We performed there from 1-2p for their after-lunch crowd.  This was an unplugged show (as many of my facility shows are).  I walked around and sung to the crowd mariachi-style – just me, my guitar, and the songs.
We also gave away a coffee mug (as we have been doing recently at each facility gig).  Here is a picture of the lucky winner!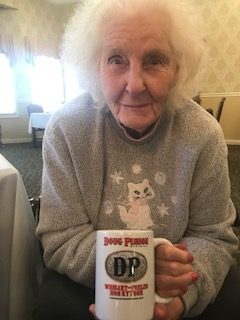 Once we finished this show, we had to move down to Ky T-Shirts in Shepherdsville, KY to pick up an order they had just finished for us on bandanas, bottle openers and shirts!  This is an image of me folding the bandanas before putting them into stock.  It takes time to do each one individually and ensure they are wrapped and ready for sale!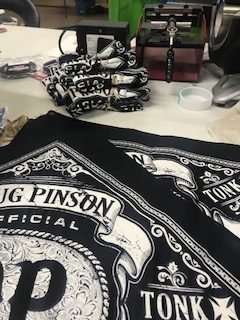 One of the cool things about working with Ky T-Shirts is that if they misprint something, rather than throw it away, they give it to me to do as I see fit.  They had accidentally slightly misprinted a few of the bottle openers, so I was able to give these to the staff at Talbott Tavern last night!
After leaving the print shop, we headed back to Valley Station to perform at Brookdale at Stonestreet for our 4-5p slot.

This is also done as a mariachi-style show.  We perform for the residents in their beautiful dining room.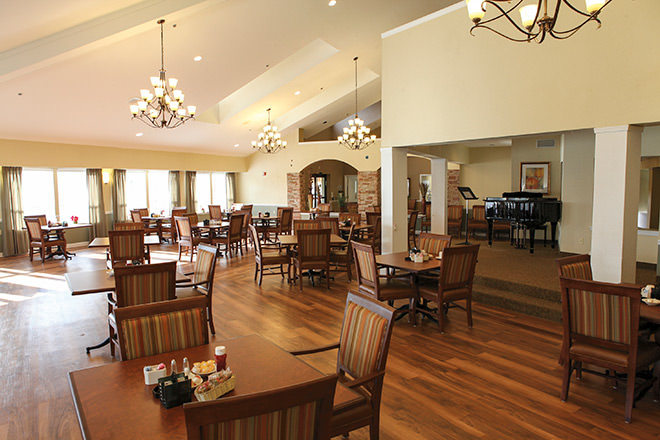 We always have a great time, and for the coffee mug giveaway, there was a special individual I wanted to give this one to.  Forgive me for being terrible at names…I see so many individuals, but I remember the stories tied to them.
This person I first met at another facility.  The very first time I met her, she was sad, and I used to wear a cowboy hat, so I let her wear my hat and we took pictures together that day.
Now every month when I see her, she comes to the show with a big smile and brings me an energy drink.
I knew I wanted to give the mug to her.  Here is a picture of her and her good friend with the mug.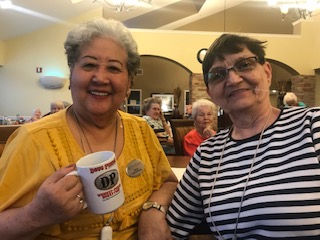 A small story about her friend in the picture – I also met her at a different facility and would sing to her each month.  At the end of each show, I would go to hug her each time, and would have trouble remembering her name.  She would say "surely you jest" to try to help me remember her name – Shirley.  After about four months, I finally began to remember her name!
At yesterday's show, she was a few minutes late, so I began to jest with her at the show, asking her what her name was again…even during a song, I changed one of the lyrics, looking at her and saying, "What was your name again?"  We all laughed, sung along, and had a fantastic time.
After this event, I headed to the house to rest for a few moments before the trip to Bardstown, KY to perform at the Old Talbott Tavern.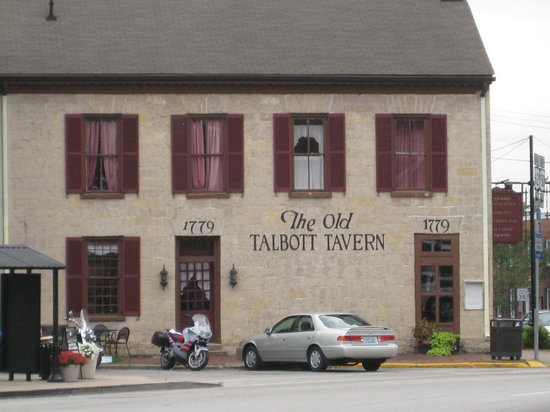 The show was from 8:30p-12:30a, and we had some great times!  I got to meet some really cool new fans, and some of them acquired some merch!  Here are a few pictures with stories from last night's show!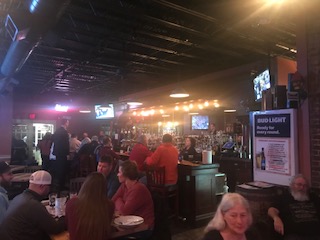 Just a basic pic taken during one of the breaks.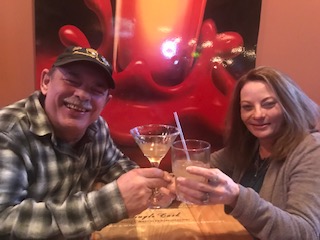 This couple was celebrating their 19th year anniversary – or as they liked to call it, their "4 3/4 leap year anniversary".  I asked them if they had planned that all out to have a wedding on February 29th, and they told me it was just a coincidence.  I gave them one of the "Lonely Tears" CDs and a bottle opener as a small token of celebration.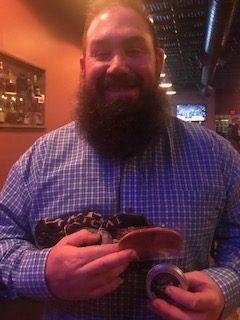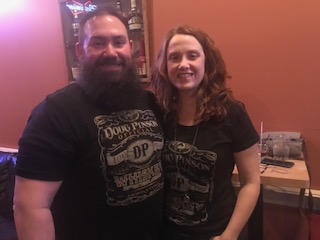 This guy and his wife had an excellent time at the show as well.  He was talking to his friends who own a winery in Flemingsburg about me going up to perform for them – looking forward to making that road trip later this year!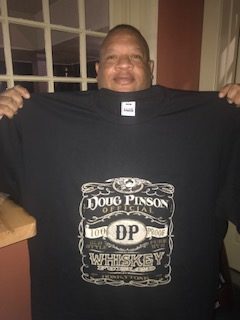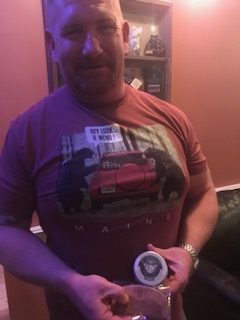 Here are a couple more pictures of fans who bought some merch to help support Doug Pinson Official.  Last night was cool because it was the first night for selling beard balm.  I sold two containers of it.  The great thing about this product can be listed in many ways:
It is created to help support the recovery community.  A small portion of proceeds goes to help acquire Big Books to help people in their journey to recovery.
It SMELLS fantastic.  The blend of rosemary, cedar and geranium gives it a scent that both men and women can enjoy.
The beeswax-based balm not only conditions and strengthens your beard, but it feels good on your lady's lips as well!  My lady was kissing my beard the other day, and she told me how nice that balm felt on her lips.  So I had to joke with her later and tell her not to be stealing all of my balm LOL.
Finally, we took one last pic together – new and old friends coming together in celebration of a great night.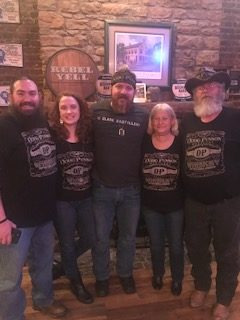 Today promises to be another busy day.  We have to pick up our new earrings at Jewelry Repair Professionals at noon, then head to a show at 1 at the Beehive in Lyndon, and then later today we venture back down into Bardstown for Round 2 at the Old Talbott Tavern!  If you have not made any plans tonight, come be my guest!  Show is from 8:30p-12:30a – see you tonight!

---