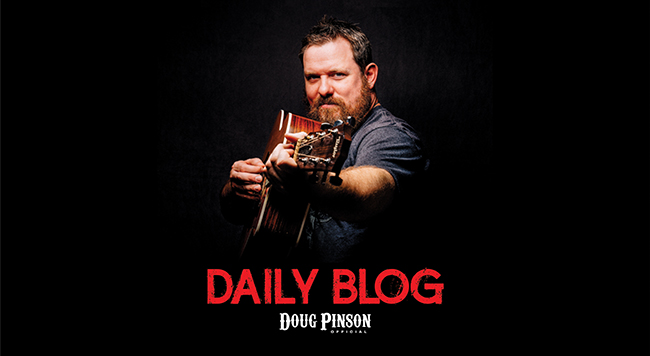 Man….has it been quite a few days since I have been able to post anything!
I know many of you are used to what I would post daily on Facebook.  With that old method going by the wayside in favor of updating our communication methods…this is the only means at the moment.
In the very near future, we will have (including this blog) posts on Facebook, Twitter, Instagram and possibly other media platforms.  We want to promote the brand as much as possible so that it is seen by anyone who may find interest in it, either old or new fans alike.
Before I get into some recent adventures, let's begin with the events for the week.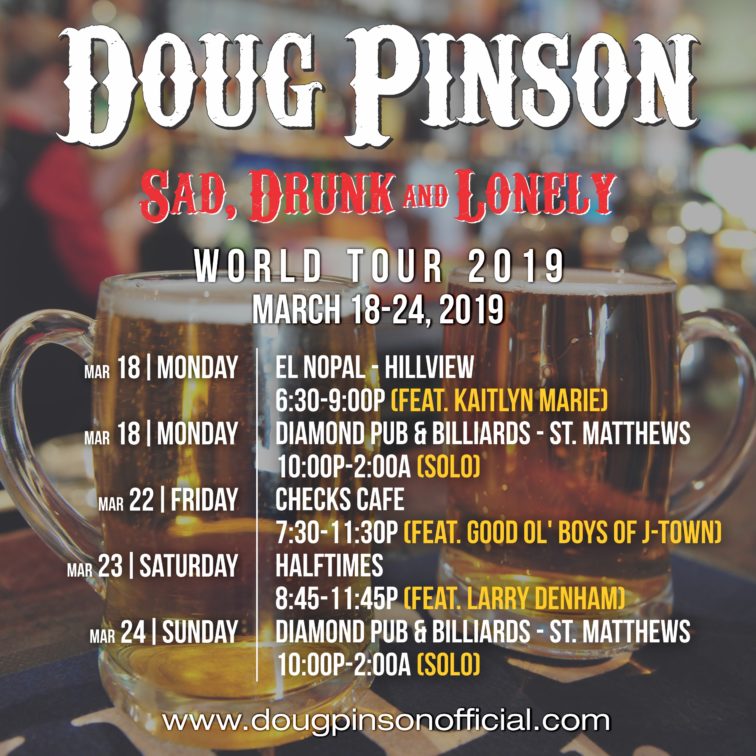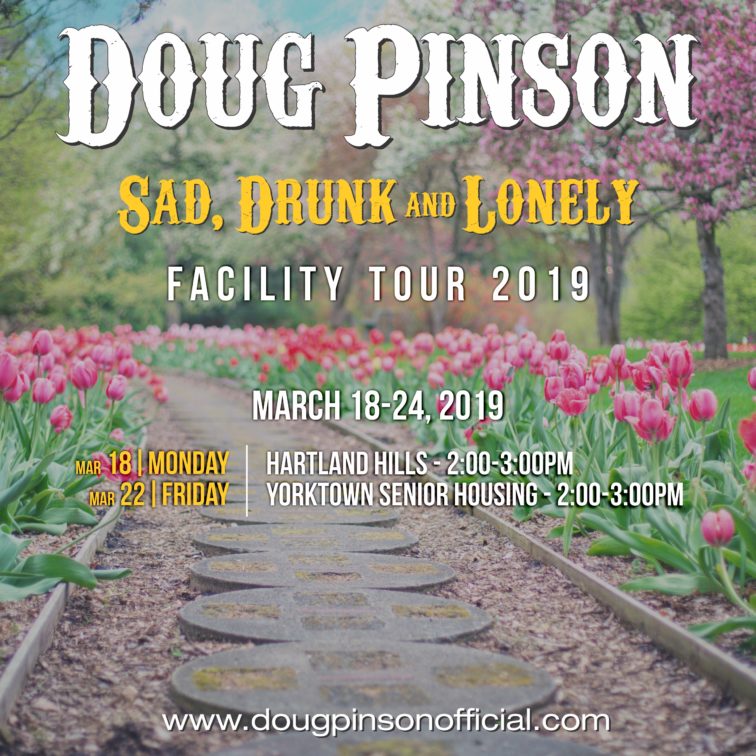 Normally I would be posting these earlier in the week, but circumstances have not permitted recently to do my updates as needed.  BUT – that is all about to change!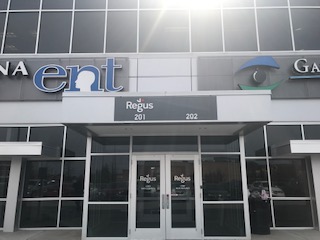 Doug Pinson Official has an official address!  We have a new home at Regus, located at 9850 Von Allmen Ct., in the Brownsboro Crossings district.  Here are a few pictures of our new home!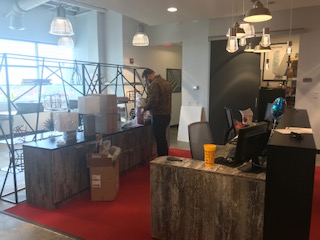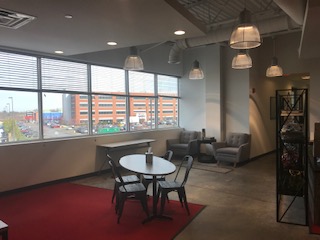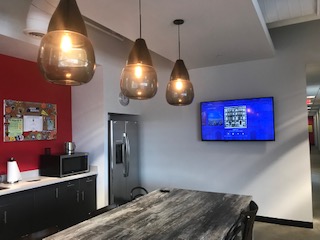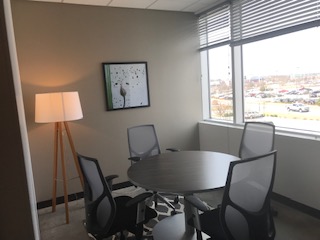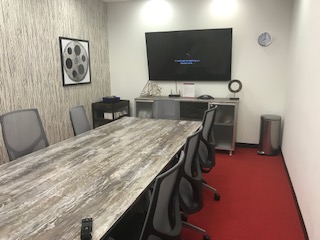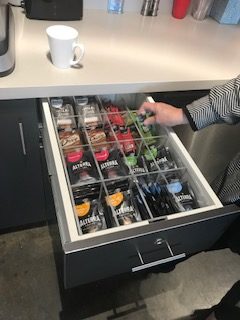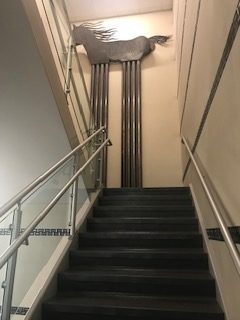 We are in the middle of decorating the office, so pics of that will perhaps be shown at a later date.
I know there are so many pictures that I would love to upload from the past days' journeys that I did not upload before, but for the sake of brevity, we will focus on adventures that happened yesterday and today.
This concludes my three-day "vacation" I take once a month…often it is an opportunity to play catch up, but yesterday we took the time to visit our friends at the Talbott Tavern  and stay the night in one of their historic rooms – the Jesse James room.  Before we begin the journey, you can reserve a night at the Talbott Inn here.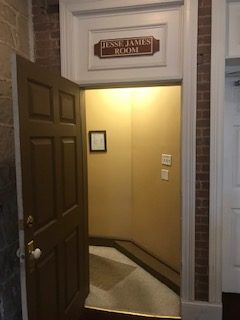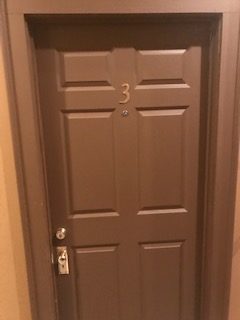 Now, one of the famous parts of the story here is that the Talbott Inn is haunted, and many of the locals will tell you stories of their own experiences.  The inn has actually been featured in many paranormal stories – you can learn more here.  Even workers that night told us of their own experiences…one even said after his experience there, he got up in the middle of the night and walked down to the Hampton Inn!
So before we entered into the night and any possible paranormal activity, we decided to do what we do – look around and take pictures!  This place has some great history.  Considering that the building itself is older than the United States, I would recommend anyone coming through these parts to stop by and take a look at an awesome piece of history.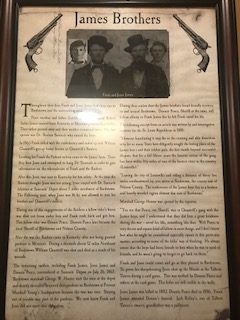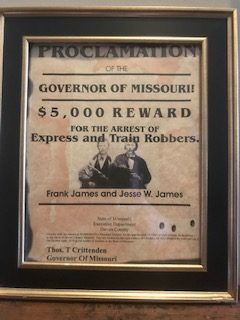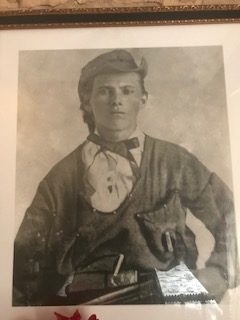 For anyone who is not familiar with the tale of Jesse James and his brother Frank, I would recommend reading at the very least the first picture I listed.  I can definitely say I learned some things.
Before we go into the room, let's check out the surrounding room.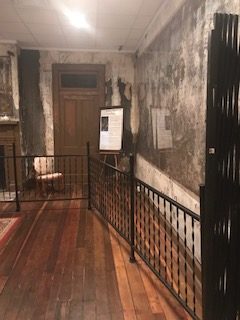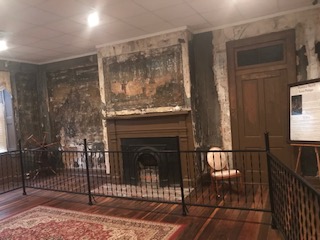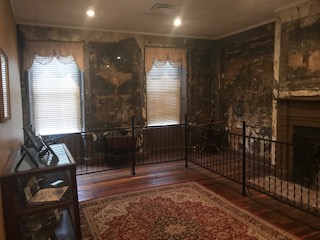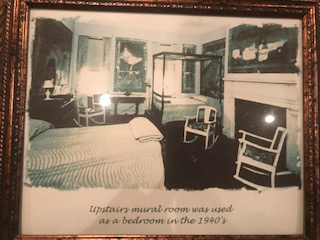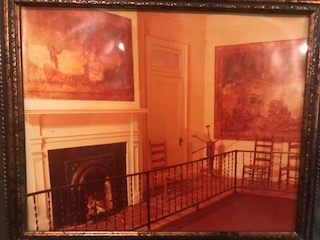 These walls used to have beautiful murals on them, as is seen in the last two pictures, but due to fire damage, the murals were hard to make out.
Now, on to the room!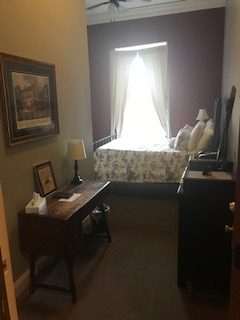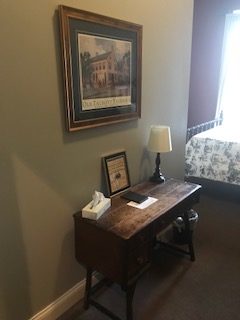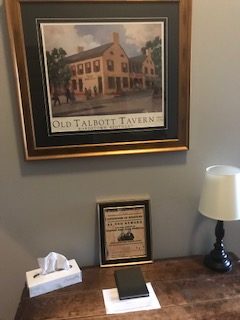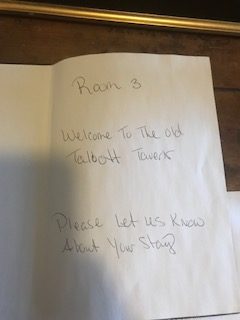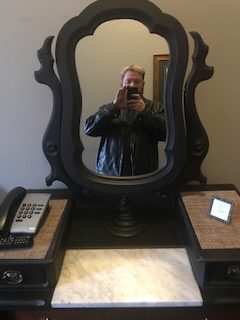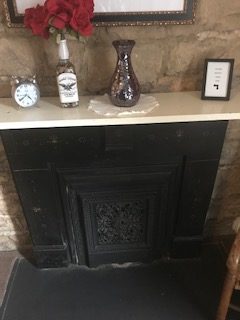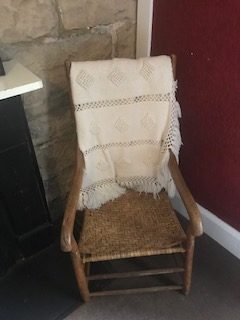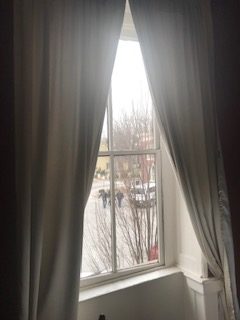 Although we looked around, we can report that no ghosts came to visit us that night!
Now a few pictures of the surrounding area.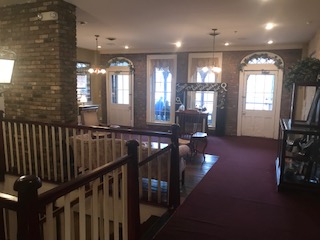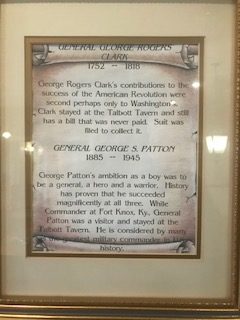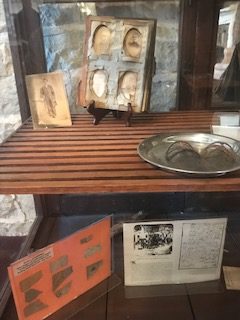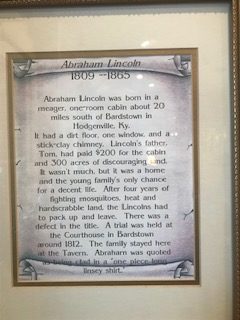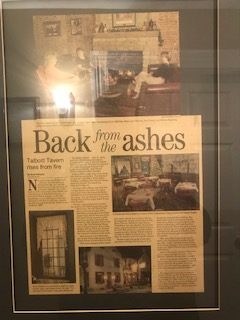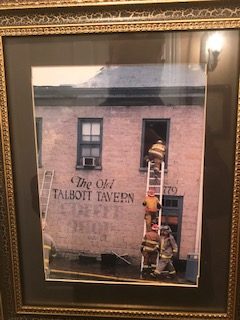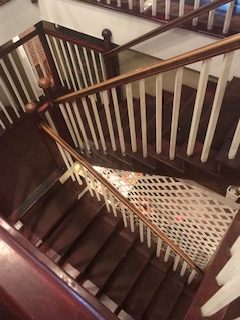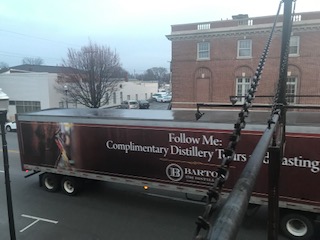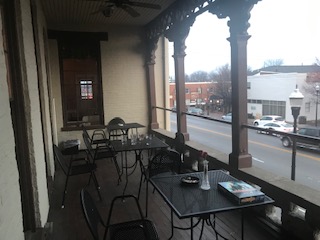 Not only are they renown for their extensive bourbon collection, but also for their amazing food!
We were treated to a complimentary breakfast over a game of Pandemic!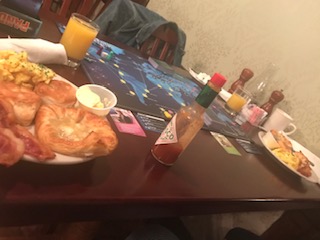 I would actually like to do a blog in the future where we feature new board games we have acquired.  This is our newest purchase, and I can definitely say that once we got over the learning curve, this game allowed for great fun and discussion.  It is the sort of game where it is the players vs. the board, with multiple levels of difficulty to cater to anyone from absolute beginners to seasoned gaming veterans.
Once we left Talbott, before we made our way back to Louisville, we decided to stop in at the Civil War Museum.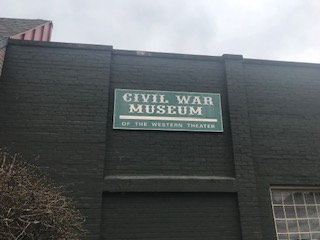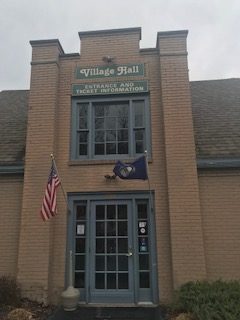 To be honest, I could say just about anything here, but I think it is best to let the few pictures we offer tell part of the tale.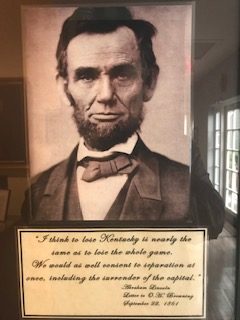 This quote alone hit me quite hard, but made perfect sense all at the same time to me.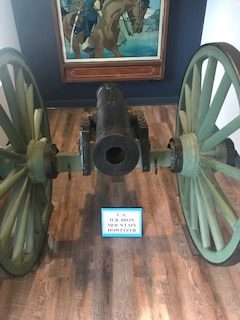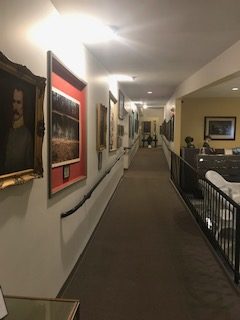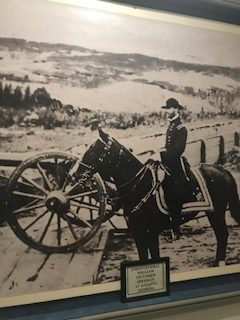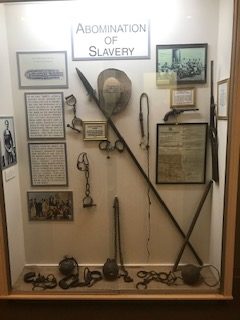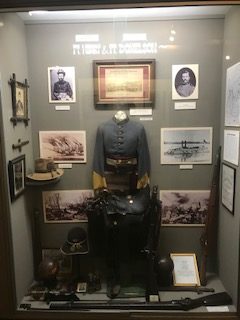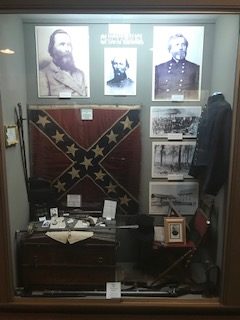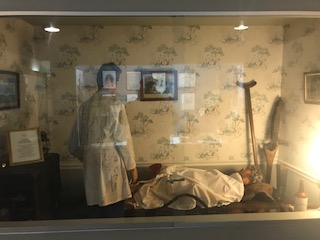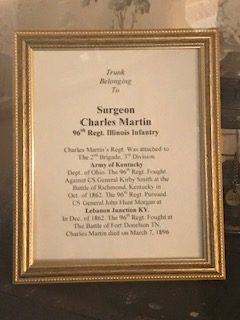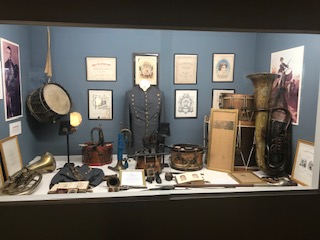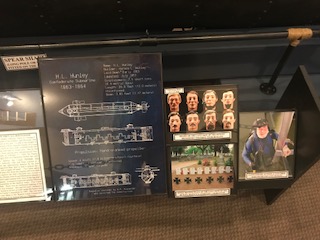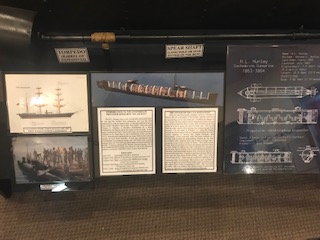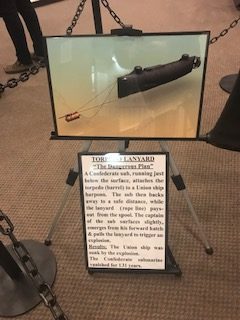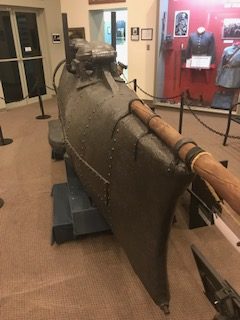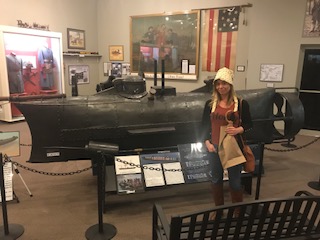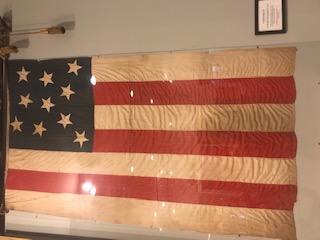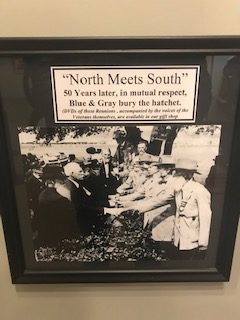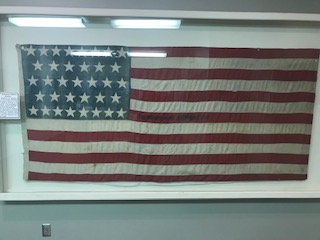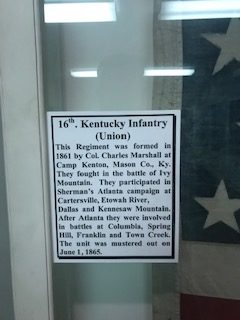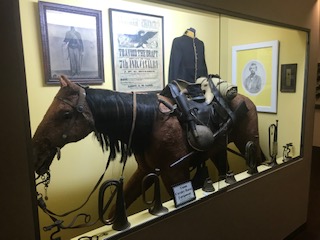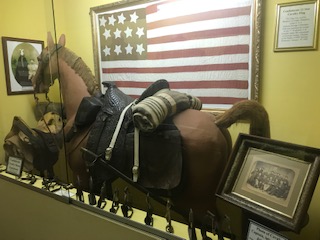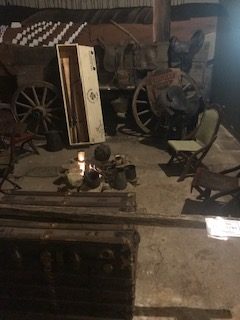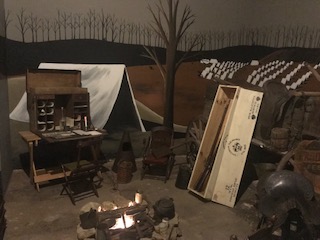 There were far more pics than these, but we didn't want to bombard everyone with everything we saw.
There were also three other museums that were attached to this tour, but since I was pressing to get back into Louisville to secure our office space, we headed on our way…and here I am, in my office for the very first day, typing up my very first blog!
Now, on to the weekend shows!  If you scroll back to the top of the page, you can copy the flyers for the week, or as always, you can check upcoming events here!

---