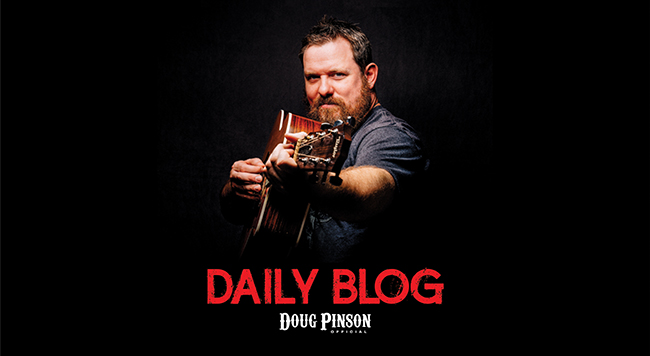 Wow, did we have a fun, busy day yesterday!
Before we get into the story, here's a glimpse into shows for the rest of the week!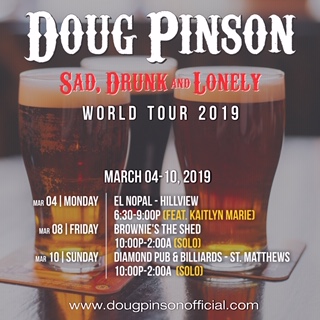 We have a lighter public show schedule for the rest of the week – only two shows on Friday and Sunday.  Seems like an easy week for ol' Doug Pinson Official, but…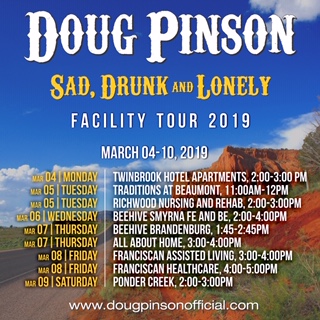 Yeah…10 facility shows.  This also doesn't account for a birthday party we are doing later this week!  Bring on the coffee!
So anyways…let's get onto some stories from yesterday's shows.
First, we did Twinbrook Hotel Apartments at 2:00p.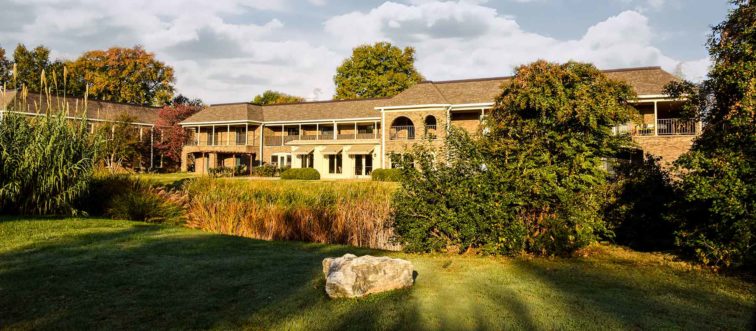 I had a great time with them as always, singing good country songs that involved stories.  Many times, we go into the hymns, but yesterday, it was nothing but country music!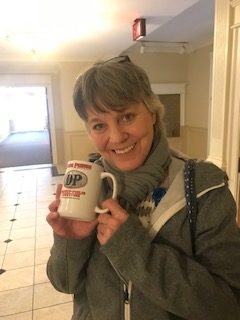 Recently as many of you know, I try to be able to give to each community with a little something to show appreciation for allowing us to perform at their facility.  This lovely lady is out at each Twinbrook show, singing and dancing along.  She really appreciated the gift!
Now, before I left, there was one part of the story I wanted to show each of you – the Smiling Irishman, Bob Ryan.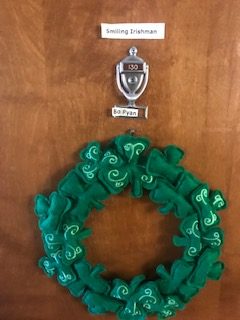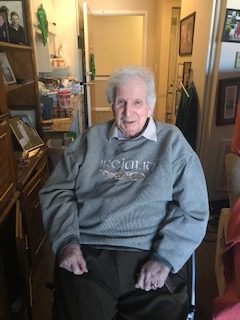 Bob was known in this town as a car salesman, but even more than that – he was also known as a radio DJ.  I asked him if I could take some pictures of his old photographs with country legends of the past, and he gladly obliged!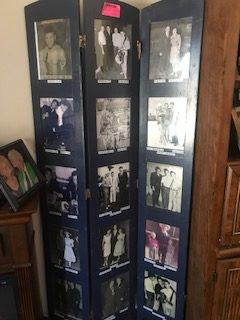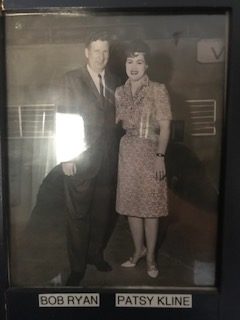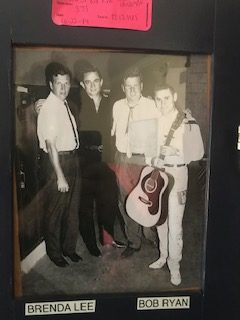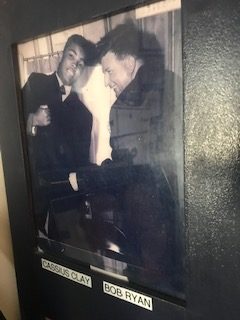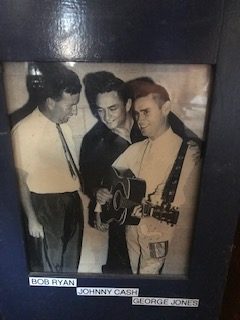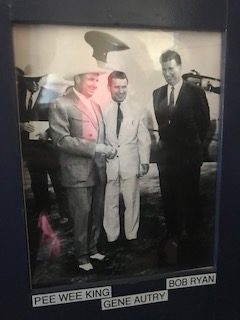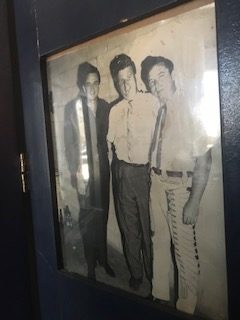 I asked Bob which legend was his favorite.  He told me it was a hard choice, but if he had to pick, it would be Ray Price.  He told me a funny story as well – he said Willie Nelson (among other singers) used to play in his band, and he asked Ray once why he didn't let Willie sing.  Ray said, "Hell no – Willie's a better singer than I am!"
I told Bob I definitely owe him a coffee mug the next time I stop by his shop.
After stopping by the house for a few to rest between shows, I headed on to the night show – El Nopal @ Hillview.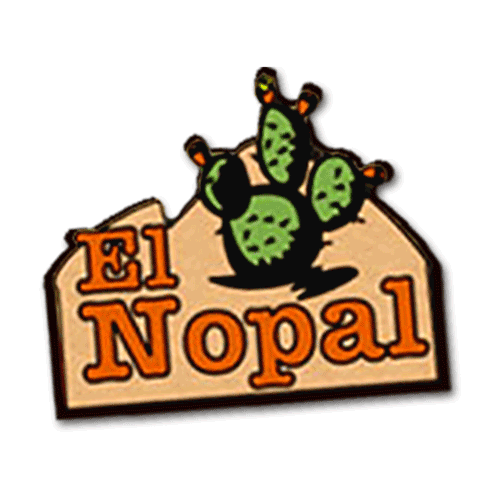 Last night we featured Kaitlyn Marie Music – fun was to be had by all!
Now with this said, recently there has been a shift in my show dynamic.  Back in the day, I used to be a track singer – some would call it karaoke, but I performed with karaoke tracks as if they were a band backing me.  I would use a wireless mic and run up and down in the shows, and we had great turnouts at El Nopal every week.
Once I began the transition to becoming a live performer (performing with acoustic guitar rather than a karaoke track), some of the older crowd quit coming.  I understand…many of them preferred the karaoke track method.  But with that said, on the flip side, I began to accrue a LOT of other work from places that DIDN'T want a "karaoke singer" – they wanted someone who could perform the songs live.
In this transition too, I began to have quite a few folks complain that suddenly it was "too loud".  This being that even though my shows had not changed in volume at all…there were some that suddenly felt it was too loud.
I was faced with a decision to make on Monday nights.  The same show I was doing at every other place with great results was suddenly met with resistance on Mondays.  The reason?  None of the other places knew anything of the older track shows – they only knew the live shows, and had nothing to compare it against, but the fans who were with me from long ago were comparing it.
Last night as I got the show warming up, within 15 minutes I have the manager asking me to "turn it down".  This is while the restaurant leaves the Mariachi radio playing overhead – DURING MY SHOW.
I asked him, "Can you turn that down please?"  And if they did…you could still hear it.
I barely turned down, but made an announcement to the audience that I just got my first message of the night to turn it down, and that I was trying to put on a show.
You see, El Nopal has a very interesting feature to it – there are three areas in their restaurant for seating, and only one of them I perform in.  The other two would have highly reduced sound levels.  Anyone who thinks the show is too loud could move to one of these areas.
If that person didn't want to hear the show at ALL, then there are other restaurants to go to on Mondays.  It makes no sense to come to a restaurant where live music is and then ask them each week to turn down.
Now…before anyone thinks I am just being a butthead…I have other restaurants where I have been asked and I turn down without question.  I have some where my normal sound level is immediately embraced by the listeners…and often, those are the nights I get the best tips, believe it or not.
There is a correlation between the amount and frequency of complaints I get from a crowd and the tips at the end of the night, and that shouldn't surprise anyone.  However, the surprise to me is that sometimes, it is the very ones who come to my shows who often are also asking me to turn it down.
At the end of one Monday night, I had a discussion with some of my regulars.  The show had gotten rowdy, and they asked me a pertinent question – "why don't you perform like that the whole night?"  My answer – "the manager always asks me to turn down – someone out here is complaining".  Their response – "why don't that person go elsewhere then?"
That's a good question!  And it is a question I tackle now…as many of you know, not only is my music shifting into a more personal direction, but also my look.  I am going for something more edgy, and that requires the listener being willing to accept it or not.  There isn't as much gray area at the moment, and increasingly there will be less and less gray area.
When I begin a show, I'm not just trying to create sound – I'm trying to create a vibe.  It requires a certain level of sound to create the type of vibe that I want to operate…it takes a level of sound to push the vocals and the guitar beyond that "hearing" level and into that "feeling" level.
Back in the day, not one person ever complained about my louder sound levels.  If they did, the staff never told me…we simply had full crowds, and so the staff let it be.
With the transition, suddenly I was told that we were too loud…and after I told the crowd I was trying to put on a show for them and someone was already complaining, I saw one fellow touch his ears and talk to his lady friends.  BUT all the other listeners were having a good time, ordering margaritas and listening.
My shows are not designed to cater to everyone.  They are not designed for those who only like light live music over a glass of fine wine.
My music is whiskey-fueled honkytonk music…it is music to drink beer and whiskey too.
It is randy.
It is rowdy.
It is real.
Last night was a proof to this – there were some new ladies at the show who were celebrating multiple birthdays and even late Christmas gifts!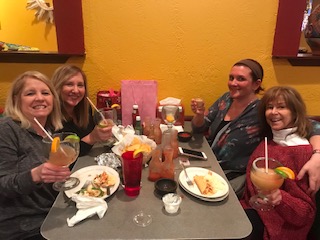 They mentioned how much fun they were having that night!  If you look at the girl in the upper right, you see a shot.  That is a special "birthday" shot I give at El Nopal.  It is 1921 Crema de Tequila – basically, people describe it as tasting like chocolate milk.
I wanted to give them a gift since they all were celebrating birthdays in the near future and it was their first time at one of our shows, so I gave them all a copy of my "Get Yer Boots On" CDs.  They were all so thankful and said in a couple of weeks, they were coming back with a crew of folks.
They are an example of new fans coming in who like the way the show was being done….not passive, but rather rowdy.
Don't get me wrong – I'm not up there jumping on tables and doing backflips.  I am singing real songs, and letting the songs speak for themselves.  But I'm not being passive about it…I'm pouring my heart and soul into these songs.
Beginning to take the show back into the energy from the old track days, but performing live, brings a shift in the audience, but in the end, I have earned far more fans being a live singer than I ever did performing to tracks.
I don't know if you want to label this as a rant.  I wouldn't call it that, since it isn't just me ranting – it is me coming to terms with things that must happen at my shows, and beginning to do them, and understanding that while some fans may not like the transition as much, there are others who will walk this journey with me.
I want my music to be felt – not just heard.
Here are a few more pics from last night's show.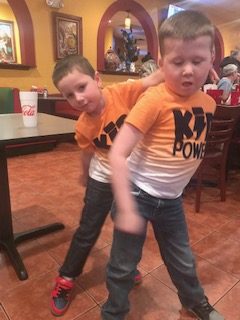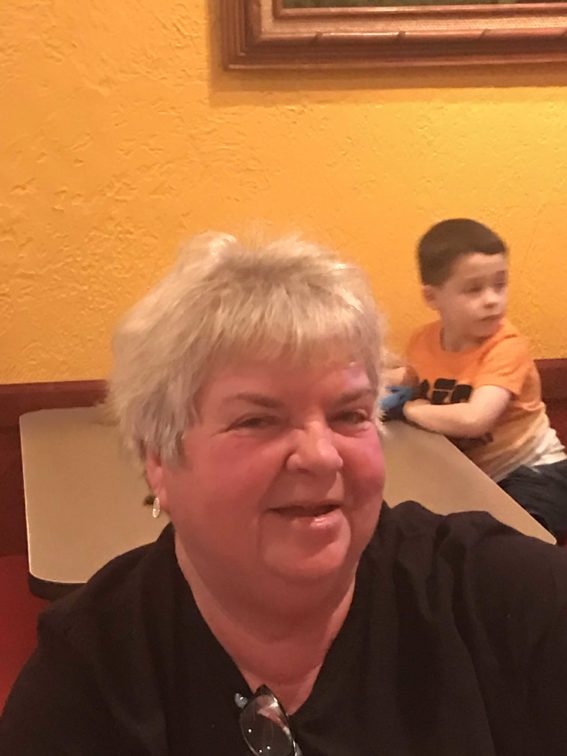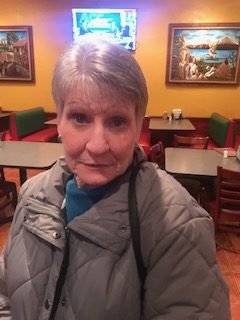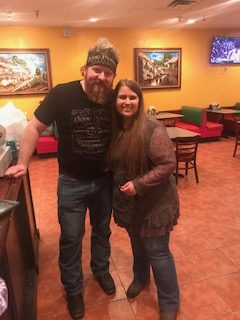 For all of that said…for the one person who complained that it was too loud and didn't move to another part of the room…there were many others who had a great time, shouted out requests, ordered margaritas, and left with smiles on their faces.
I believe in the path I am going.  I use these songs as medicine, whether at the facility shows or at bars, restaurants and festivals.  My music is designed to reach down into a person's soul, and just like any medicine…it's not for everyone…but for the ones it is for, I see the results and I continue on my journey.
With all that said, we move onto today's shows.  The event flyers are posted at the top of the blog, and as always, you can check here  for more show details!

---